PORT BISTRO & PUB
Indoor and outdoor dining available
Social Distancing Enforced
90-120 minutes due to social distancing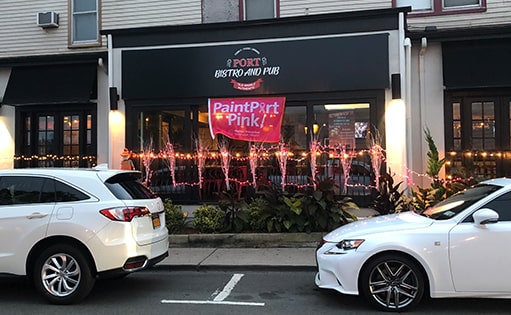 The Port Bistro and Pub, located in the heart of Port Jefferson, NY is a family friendly restaurant that serves classic dishes and specializes in old world authentic foods and recipes. The tap and bottled beer and wine selections rival any restaurant on Long Island. Owners Bob Nyholm, Chris Nyholm and Palma DiVito have decades of experience in the food industry.  And endeavor to offer a casual, enjoyable dining experience for lunch and dinner every day of the week. The restaurant's dining room and bar now occupy the former home of Port Jefferson's Original Elks' Hotel dating back to the 1930's.
Port's Chef focuses on the farm to table concept, using organic and all fresh ingredients when creating the regularly changing menus. Daily fresh fish dishes are a staple, too. Old World Authentic dishes, from fresh pastas to desserts are inspired by traditional recipes of the owners' and chef's ancestors from Greece, Germany, Southern Italy and other European regions.
Port Bistro and Pub is proud and honored to be carrying ONEHOPE wine which donates half of its profits to charity. More than $3 million in donations, has provided 46,000 people with global health care, 49,000 forever homes for shelter animals, 1.8 million meals for children, 163,000 life-saving vaccines and much more.
Our recipes are based in our love for Old World Authentic foods.
AND OUR DRINK OFFERINGS MAKE FOR THE PERFECT PAIRINGS.